Paradise for catfishermen
Lake Katlov is located in the Central Bohemian Region, roughly 14 km from Kutná Hora, in the vicinity of Červené Janovice. It lies in an altitude of 445 m a.s.l. and it covers a surface area of 4 hectares.
Its average depth is 2.5 meters, but the bottom of the lake varies in repth at the dam end it is about 4.5 meters, and it gradually decreases towards the island and then transitions into shallow waters. There are three fishing swims at the lake - these are far enough apart for a generous amount of water per swim, and they are separated by the island, so all anglers can enjoy their peace and quiet when fishing. Come see the lake for yourselves, and make your fishing dreams reality.
from ~87 EUR / day
price includes accommodation on the swim and permit
Facilities:
• Refreshments (kiosk)
• Toilet (women, men)
• Showers (women, men)
• Toilets for disabled persons
Between Lake Katlov and Pohan Pond there is the manager's facilities and the refreshment building.
Lakes Map | Reservation
On the map you can see the location of the individual swims.
By clicking on the swim you can make a reservation directly.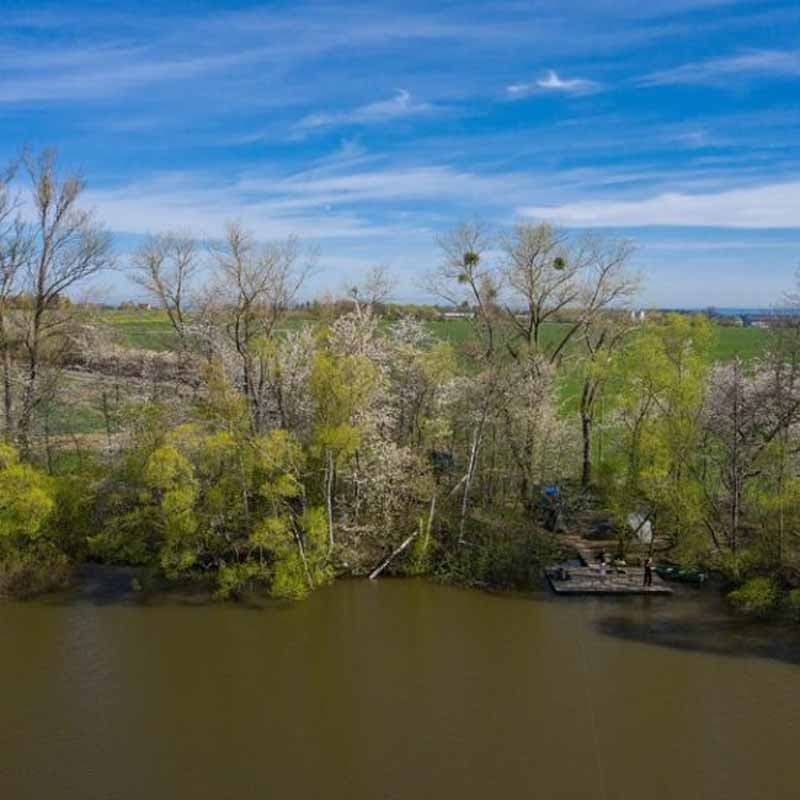 Swim 1 is suitable mainly for fishing in large depths. In the right part, towards fishing swim no. 2 there is an underwater bench in lower depth.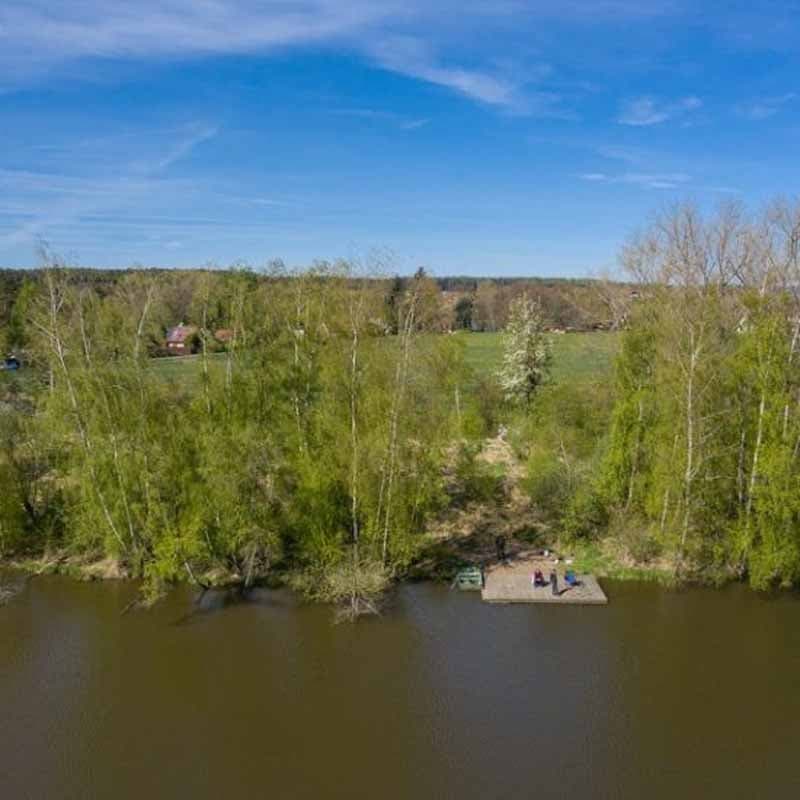 This swim is ideal for buoy fishing, especially in the left part of the underwater bench, or in front of the main floodgate. In the right part, there is a lake – the depth around it is about 140 cm. It is a great spot for buoying or spinning. It is a rather shallow fishing spot.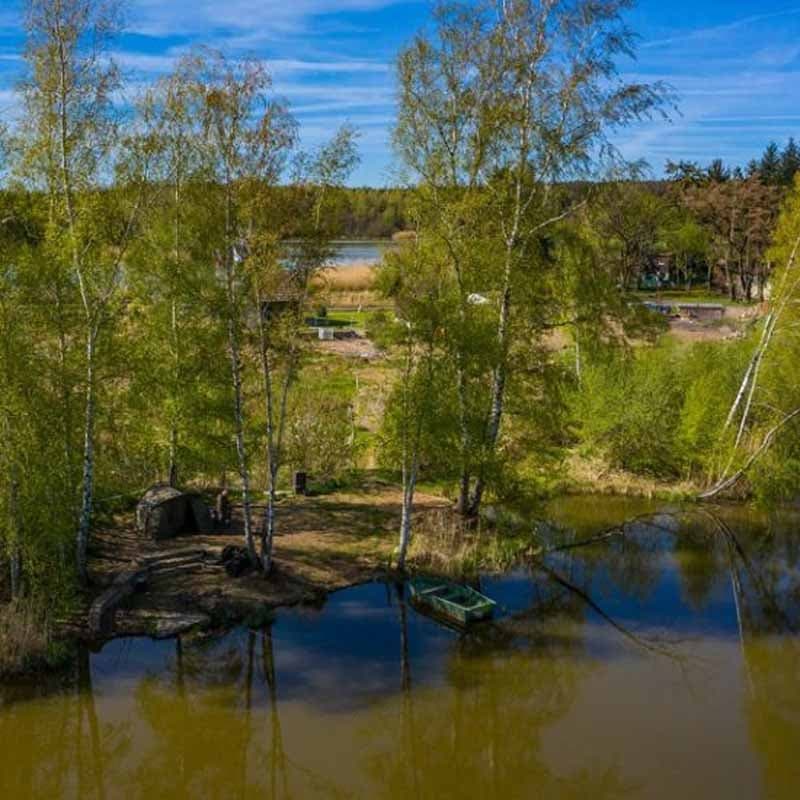 This swim is formed by a natural swim and it is located in the Southern part of the catfish lake. In the right part of the spot, there is a small bend that is very popular with the catfish, so it is definitely a great idea to put one fishing rod assembly with a buoy here.
Occupancy | Stay packages | Pricing
We have a new rule for 2023! Reservations can only be made for 3, 4 or 7 days. * start days are WED and SUN
Permission 1 day ~87 EUR
Pier boarding is between 13:30 - 14:00. It is necessary to leave the hunting ground before 12:00.
The price includes:
plenty of the parking places at the water bailiff's building

use of WC and shower (soap, shampoo, toothpaste included)

rental of a mat

charging of batteries or mobile phones

good advice from our water bailif
The price list is valid from 14 July 2020.
Buoy fishing - Rod with grammage of more than 400 grams, monofil is forbidden, braided line for 60 kg, swivel, snap hook at least for 100 kg, connecting line at least for 100 kg. Hook brands - Owner, Gamakatsu, Mustad or Madcat - the only permitted assembly for buoying is a system of two single hooks in the size of max. 6/0. It is always up to the bailiff to decide if the anglers equipment is adequate. Only jigging is allowed (with or without a float) using an obstacle (tree branch) or a jigging buoy - PET bottles or crude PVC may not be used for floats. Jigging line of about 20-30 mm in diameter), length no more than 5 meters. Remove all remaining jigging line immediately.

Spinning - it is carried out from the allotted wharf, or from another spot determined by the bailiff, with only one rod. There may be 2-3 anglers on the wharf, unless otherwise specified by the bailiff. When spinning, the angler can wade in front of his/her spot, but not deeper than to the height of their waist. The catfish spinner, rod and spinning reel must correspond to the nature of the prey. The spinning reel must be equipped with a line that can bear 30/40 kg.

Spinning is carried using mainly twisters of large dimensions, equipped with a jigging head with a single-hook. Spinners and wobblers are also allowed that have been designed specifically for hunting on catfish - these must be equipped with firm hooks, and mainly with firm rings and swivels. Any spinning bait may only be equipped with a single triple-hook with the maximum size 3/0. The assembly must be shown to the bailiff before the fishing begins.

Spinning only with guide

Catfish may only be weighed if the bailiff is present. Weighing a catfish without the presence of the bailiff is regarded as a serious violation of the Fishing Code.

It is strictly forbidden to pull catfish onto the bank or the fishing wharf. Pictures with catfish may only be taken in the water. Exceptions may be granted only by the bailiff.

When taking pictures of the catfish, or when filming it, the catfish must be held horizontally, and only slightly above water level. When taking pictures or filming the catfish in a vertical position, the catfish must not be lifted more than to a position where the breast fins of the fish are 15 cm above water level.
Please read and understand the "RULES" for Lake Pohan, and abide by them.
While fishing Lake Pohan, INSPECTION may be carried out.

Book a single swim or the whole lake EXCLUSIVELY.

Lake Pohan is Private and NO permits are needed.

Fishing on the Catfish lake must be confirmed with the bailiff prior to fishing, if not pre booked.All swims are to be kept clean and tidy.

The fishing starts at 14:00 pm and ends at 12:00 pm. In case of different arrival/departure times, please contact the caretaker of the lake.

The use of lures is permitted, but only with barbless hooks.

The use of live or dead bait is permitted.

Playing catfish from the boat is permitted.

All anglers must behave in a way that does not disturb OTHERS.

It is strictly forbidden to retain fish in any way whatsoever!

Bait fish may be caught for the lake, but to be confirmed with the caretaker (bailiff) first and will be charged at € 2 per fish.

When spinning, the bailiff is always in the vicinity of the lake, and the angler is obliged to call the bailiff if and when a catfish is caught that exceeds 150 cm in length.

There are only 3 fishing spots at the location. These spots are equipped with a fishing wharf. In other cases, the spot will be determined by the bailiff. The angler always has a sector in front of him/her that has been appointed by the bailiff or that is equipped with buoys.

Buoying can be carried out only with two rods. There may be a maximum of two anglers on the wharf, unless otherwise determined by the bailiff.
Parking is permited only on the parking lot,

for personal hygiene it is determined to use WC and the showers, these facilities are open 24 hours a day, In the showers are available soap, shampoo and a tooth paste. Please keep the place clear for other users. It is strictly prohibited to use any kind of soaps, shampoos etc. in the lake,

using of larger amount of alcohol or any kind of drug is prohibited in all area of Katlov lake,

radio sets or TVs are permited, but noise can not exceed your fishing spot. Please respect others,

keep your place clean, when you are leaving the place should be in the same state asi it was before,

it is prohibited to cut trees or bushes in the whole area of the lake. Camp firing is permited only on determined places (or you can use your elevated grill, you can also rent this grill from our bailiff),

breaking any of these rules causes ordering out of the area without refundation. This person will not be allowed into the area in the future anymore,

if an angler except visitors, he must inform the caretaker before this visit arrives. The visitors can also leave ther cars only in a parking lot,

the operator has right to use any photographs and videorecords made by the visitors. These photos and videorecords can be used to promotion of the lake via journala web pakes etc.,

every visitor is responsible for his own stuff. Everyone is obliged to protect his stuff from damaging or stealing, this is valid even for the stuff stored in parked cars,

the operator is not responsible for wounds of persons caused by theeir own carelessness, or by overestimation of their own skills and physical strenght, or by breaking any of theese rules.
RÁJ PRO RYBÁŘE,
RÁJ PRO RYBY

Lake Pohan is nested in the picturesque countryside that is also home to nearby Lake Katlov.However, unlike Katlov, which is known for its trophy carp, Pohan is the right place for anyone wishing to enjoy some catfishing,as its waters are teeming with catfish.
These two lakes make up for a magnificent fishing experience where you can catch a 20 kilogram carp, and a two-meter catfish on the same day. You don't have to endure the arduous journey to the River Ebro to land a magnificent trophy catfish, come and pay us a visit. The average weight of our catfish is an unbelievable 50 kilos! We know for certain that there are at least 15 catfish that weigh more than 100 kilograms. If you are lucky,you may even beat the lake record which stands at 115 kilos!
As there are about 150 fish in the lake, your odds of landing one or even more very likely. There are other kinds of fish in the lake as well – carp, grass-carp, bream, crucian carp,roach, perch and rudd – that help create the unique biomass of this lake, which ensures that the catfish strive, and anglers waiting for catfish to nibble can pass their time float fishing, or feeder fishing. Your trip will be facilitated by our team of experienced water bailiffs some of are pioneers of the European competitive catfish fishing.
How will you go ...
In the link below you have a preset navigation ...

Show on map